Social Media is getting a lot of buzz lately and before everyone jumps off the deepend like they did before the dotcom bust lets look at what Social Media is and isn't.
From Ignite Social Media comes the top 10 'Most Common Social Media Myths' and for companies that are wanting to jump off into the SM abyss this is a must read.
Some of the myths that Ignite goes over are ones we hear everyday.
Myth 1 – Social Media is Free
This is true, to a point. Anyone or company can join Facebook or Flickr but in order to promote your company and still remain free you would have to do it after company hours. For some of the more smaller companies out there this is possible but as your company gets bigger and bigger you may not have the time. Also, how do you know which site is better than the others? If you don't have a grasp on social media trends you could be left out in the cold. Hiring a company to maintain your online PR is an avenue you can take but the ROI for these endeavours is hard to measure in dollars and cents. It can however be measured in site usage. For search engines a link from a well known site like Facebook is worth more than an online directory that has nothing to do with your business. What individuals and businesses are doing by joining these types of sites is essentially akin to online billboards but unlike real billboards users can jump immediately to your site if they like what they see. Companies can create accounts on these sites and use them as mini marketing sites to pull traffic onto their main site.
Myth 3 – We can create a Viral Campaign for you – NOW!
Most of the 'over night' Internet sensations such as Lonelygirl15 took a long time to make and they got lucky, very lucky. Viral marketing is an extremely hard marketing source to utilize. It takes a long time to build up brand awareness and trust in users. If you do it wrong it can hurt, as Walmarts 'Walmarting Across America showed.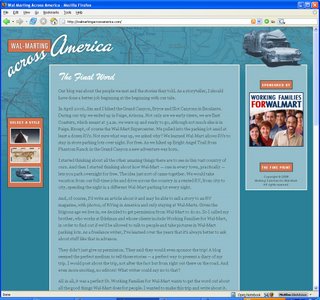 In this campaign an unmarried couple travels across America in an RV staying in Walmart parking lots and meeting the great people that work at Walmart. Pictures of happy Walmart workers and stories were posted by the couple. The idea was that if you traveled in an RV you can stay in Walmart parking lots for free. They're good that way, and they won't lock you in at night. It all seemed like a believable story, it wasn't. It was concocted by Edelman PR in an effort to rebrand Walmart as a happy, safe neighbourhood store that was nothing like the ugly behemoth is has become. The site is now defunct.
Walmart learned that fictional blogging wasn't for them and that viral marketing can bite you in the end if you are not transparent. If you come into it with good intentions and a fun attitude it can pay off but be prepared to be in it for the long haul.
Myth 7 – Social media isn't really work
Like anything in life if you want to succeed you need to work at it. This goes back to the first myth, even though these sites are free, for the most part, they take work. For instance the International Rhino Foundations Flickr page did not just create itself. It takes committed, passionate individuals like Kelly Russo of the Houston Zoo to create, upload and maintain this particular social media site. If you look at it as labourious then maybe it's not for you. If you have the budget you can hire a firm to take care of these things for you.
Some Great Social Media Sites
If you're the kind of person who likes to get their hands in things I suggest you check out some or all of the sites below. But beware, these sites should be an extension of you or your company, if you sell a product or a service be transparent about it and don't slander anyone, especially your competitors. Online PR is going to be huge and if you are overly outspoken on extremely controversial matters it may come back to bite you. Be direct and clear and have great intentions, basically don't be Walmart
Social Network Sites
Facebook – They have decided to take on Google as the next biggest ad server and this is good news for businesses. They have begun to offer all kinds of money making incentives to help you build up your viral campaign such as creating your companies own Facebook page. Profiles are free, ads cost money
LinkedIn – Think of this as the Facebook for professionals. Like Facebook you can find and connect with people you know in the professional world. Profiles are free.
Blogging, free and paid
Online Photos
Flickr – This is the premiere online photo sharing site. Users or companies can create a profile page that can direct users and search engines back to your main site. In my opinion this is bar-non the top social photo site on the Internet today and is indispensable as a brand awareness site. Have compa
ny functions like Christmas parties? Does your management team speak at various engagements? Company softball team? Office hi-jinks? If you've answered yes to any of these questions Flickr is an invaluable source for raising brand awareness and trust. A simple account with limited usability and uploads are free but a Pro account is only $24.95/year.
Online Video
YouTube – The site that could, did and boy did it. Proving itself as a vehicle for creativity it has made stars out of unknowns and fools of others. YouTube is more than a fanboy site of all things insane. As with Facebook and Flickr you can create your own company or user profile page that acts as your own online library of company related videos. If you have product demos or conference video YouTube is a fantastic avenue for placing these videos online. A lot of people ask why anyone would want to post any videos of you company online and the simple answer is exposure. It is quite easy to send a prospective client to your YouTube page to watch your product demo or in the case of Houston Plastic Surgeon Dr Mentz a simple one minute video about his surgery center. Accounts are free
Revver – is like YouTube but it shares it's ad revenue with its users. Much like YouTube you can created your profile and upload videos. Revver will append these with short ads, as users click on the ads revenue is collected in your account. Have a viral video and you'll get a lot more revenue. Have a simple company function video of a Christmas party Revver may not be for you. There are other ad server video sites out there but the setup process for Revver was the least bit annoying for me.
Online File Sharing
SlideShare – This is a great site to share out your PowerPoint presentations and PDFs. As with YouTube et al they provide an embed code that will easily let you post it on your site or blog. We have posted some of our Search Engine Marketing PowerPoints here.
Scribd – Scribd is like SlideShare but better. Scribd can let you upload a multitude of documents in many formats. Taking the E out of their name like Flickr, Scribd has one clear intention, to help you get your word out.
Of course this list is not exhaustive and I've left out other social sites like Twitter out but I'll leave that for another post.
For more information please contact the Search Engine Marketing Team at Schipul – sem@schipul.com